Event Start Date:
February 6, 2023
Event End Date:
February 6, 2023
Event Venue: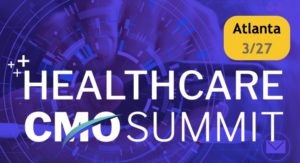 Healthcare CMOs are constantly faced with a multichannel stakeholder challenge. Which stakeholder group do you engage, how and when? They have to speak many different languages based on the audience. They must also prioritize which audiences get assigned the resources required to reach them.
Write2Market is bringing together Atlanta's healthcare marketing community at our first ever healthcare CMO summit on March 27, 2018 at the Gathering Spot. Our keynote speaker, Piedmont Healthcare Chief Consumer Officer Matt Gove, will discuss how Piedmont tries to keep things simple by focusing on healthcare consumers when they are actually acting like consumers: essentially by meeting them where they are.
Additional sessions include:
The State of Healthcare Media Relations.

What differentiates stories that win media coverage versus those that don't? What are the critical elements in expectation setting for spokesperson interviews and expected outcomes? From pitch to placement, how long is the lead time for stories that meet a tier 1 editor, contributor or reporter's requirements?

Set the Stage for Successfully Syncing Marketing with Sales.

C-suite demands for marketing and PR to validate their worth by tying their activities more closely to lead-gen and sales have given rise to scores of tools and moved content marketing up the rung of tools in the marketer's toolbox. This session will examine a planned approach to integrating sales and marketing for selling into the hospital, ACO and pharmaceutical environment with three examples of projects currently 'in play'.

Navigating Digital Marketing in Healthcare.

Social, organic and paid. How do you prioritize the opportunities to drive targeted, high value traffic? In a noisy, multi-channel environment full of regulatory challenges, how should healthcare CMOs divide and conquer in terms of priority and budget?

Making Patient Videos Work.

Patient testimonials are one of the most powerful digital marketing tools for engaging patients. A fellow patient sharing his/her experience is exactly the type of content patients who are new to a condition are searching for. While it isn't always easy to get clinicians and patients 'on the record,' if you put in the time, it will be well worth your effort. This session will address preparation and planning including clinician buy-in, patient buy-in, on location needs and editing.
Click here to see the full speaker lineup and register today!
Date/time: 03/27/2018 - All Day
Location
The Gathering Spot