Event Start Date:
January 27, 2020
Event End Date:
January 27, 2020
Event Venue:
Atlanta Technology Park
2020 Marketing Workshop: Create Your 2020 Marketing Plan!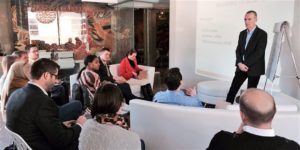 In this workshop, we will work together on creating a practical marketing plan for 2020, starting with some goal setting and the broad strokes for the whole year and then quick zooming in on the tactical steps for the first quarter to get you ready to rock your 2020 marketing!
This session is hands-on so we recommend you spend some time thinking about goals before the session and bring your laptop and/or pen and paper.
1. 2020 Marketing goals
What are your goals for 2020, how will you (or your boss) measure success? Are you aware of the sales goals? Company goals? It's hard to create any type of 'campaign' and measure success without goals.
Also – are your goals 'SMART' – ie can you influence the goals with marketing? And the other way around, do the goals support the sales & company goals?
2. How was 2019?
Did you have goals for 2019, how did you do? Did you miss, meet or exceed your goals? What was the best campaign – what was a waste? What was the most expensive vs the best value for money?
3. From goals to tactics
Taking the lessons from 2019 and the 2020 goals – we'll work on translating the goals into tactics across channels.
4. Let's make Q1 2020 Concrete
We have goals for 2020 and the broad outlines across channels. Now let's make it very practical for the first three months of the year. Who what when – so you're all set to rock it from 1/1/2020!
This session is lead by Jean-Luc Vanhulst, President @ Write2Market, an Atlanta based marketing & PR agency. Jean-Luc is an entrepreneur and marketer with more than 20 years of experience in technology, marketing.
Date/time: 01/27/2020 - 3:00 pm - 5:00 pm
Location
Atlanta Technology Park