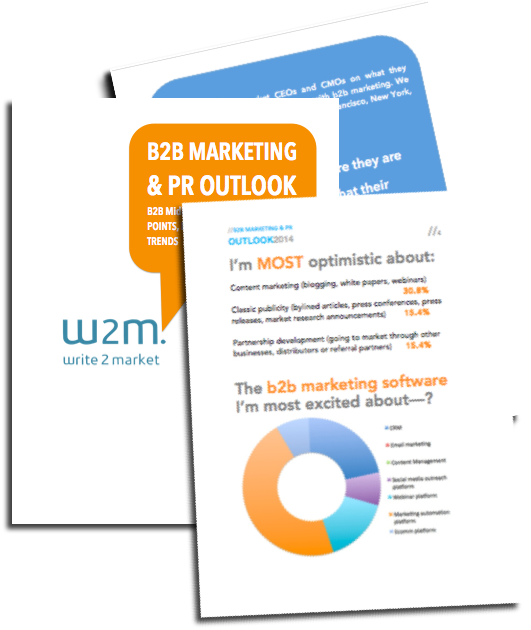 We surveyed midmarket CEOs and CMOs on what they really believe is happening with b2b marketing. We got feedback from Austin, Atlanta, San Francisco, New York, Atlanta, Nashville, and Chattanooga.
We asked about where they are investing, what their problems are, and what's working. Here's a taste of the survey results:
I'm spending MORE next year on—
100%        Content Marketing
61%          PR and social media
58%          Email marketing
38%          Online advertising (LinkedIn, Google Adwords, Twitter)
30%          Partnership, distributorship or  referral network development
30%          Organic SEO
15%          Fanbase development (creating unique conferences, associations and owned media)
I'm MOST optimistic about:
Content marketing (blogging, white papers, webinars)       30.8%    
Classic publicity (bylined articles, press conferences, press releases, market research announcements)         15.4%
Partnership development (going to market through other businesses, distributors or referral partners)         15.4%
We also asked about favorite new b2b marketing apps they'd recommend and where they are struggling the most with b2b marketing success.
To find out, including learning the top new apps they recommend for b2b marketers, have the full results sent to you for free:
.[email-download download_id="10899″ contact_form_id="10873″]