Where to find the Add-on?
It's an approved Add-on in Google Workspace Marketplace. Install from here.
How to use the Add-on
In order to download data from Oura you will need an API key. Go to https://cloud.ouraring.com/personal-access-tokens to get your access token (you will need to login with your Oura username and password).
After you have installed the Add-on and obtained your API Key you should see the Oura menu under Add-ons. Go to settings and save the API value.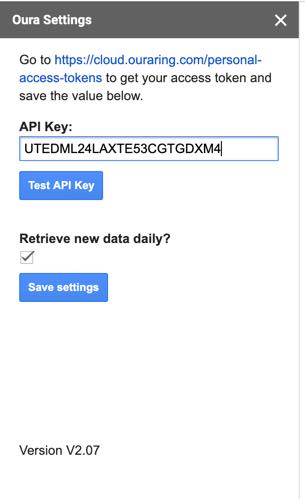 Now you're ready to import your data. Go to Import and enter the date range you're looking to import. Oura will import the data in the current tab. It will check for existing data and append to the end, so nothing will get overwritten. The current version does not check if the data might already be in the spreadsheet, so if you import the same data twice you will have double rows.
According to the Oura API it's possible to have more than one record for sleep in a single day, but right now the app ignores those.
To see the details about the data available see the pages on the Oura website for Sleep, Readiness and Activity.
Durations are converted to show as duration in Google sheets.
The 5min 'hypnogram' is essentially the sleep graph from the phone, but with numbers. ('1' = deep (N3) sleep – '2' = light (N1 or N2) sleep – '3' = REM sleep – '4' = awake).
Future updates
Coming in January 2020
– Ability to organize / select /configure what data to import