Put an end to poor marketing and public relations tracking
Triple A is a simple, cloud-based activity tracking system that gives marketing executives clear insight into:
1) Top line marketing value driven
2) The activities and outcomes driving that value
What most platforms miss is perspective. Our Triple A Industry Leadership Methodology®  gives our dashboard the perspective of Industry Leadership–a larger goal than any single marketing campaign.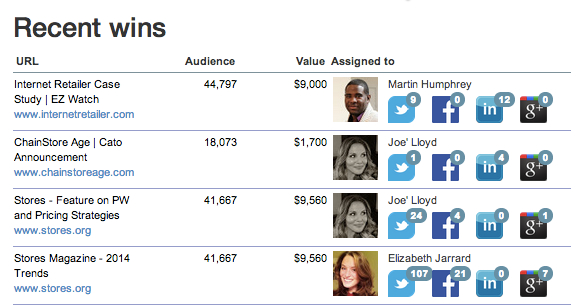 Cloud-based convenience
Our cloud-based industry leadership dashboard allows anyone on your team—or on ours—to login to your unique marketing and publicity portal.
See, and work with, your active publicity plan, your marketing plan and your social media outreach
See how your social media outreach is driving traffic back to your site, article by article, release by release, conference speaking session by session
Review sales funnel impact, including graphs on audience size and value
See upcoming value-driving tasks and who's assigned to them.
See at a glance your upcoming story opportunities and speaking opportunities
Want to see that Tech Crunch article again? Never lose a link to a file.
Tracking Public Relations and Marketing ROI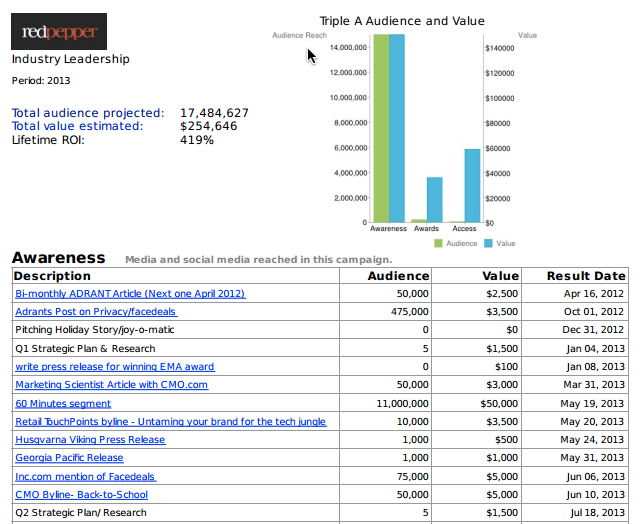 Our ROI reporting engine calculates the return on your investment at the touch of a button. You can choose any time period you like to review your performance.
Opportunities at a glance
Over the years, we've built thousands of relationships with regional and national conferences in the b2b industries we work in–technology, energy, retail tech and healthcare. For our clients, these conferences, awards and media contacts are kept up to date and reviewable. Never miss an award deadline again. Never miss a call for speaking proposals.
Take the Industry Leadership Dashboard for a Test Drive
Contact us any time for a demonstration of this proprietary dashboard to help you chart your own industry leadership journey.