Make the most of your tradeshow
Here are 10 ways for B2B marketers to make the most of their company's presence and boost sales in measurable ways.
You should see highly qualified leads, significant pipeline traction, multiple feature media placements, a jump in social followers, a new partner or two, and overall boost in brand preference from these activities, so dig in!
BEFORE THE SHOW B2B MARKETING TIPS
1. Create your own webpage that is key-word optimized for the show two months beforehand. Start driving awareness and website traffic to promote your activities at the show, like parties, client events, surveys and of course, your session. Don't forget the show hashtag.
2. Build a media list of the reporters and outlets that will be in attendance. Two weeks before the show, call relevant reporters to schedule interview appointments for your company's onsite execs. Don't forget to note the twitter handles of editors, journalists, and partner companies so you can follow and tweet directly.
3. Produce a press release with the tradeshow name in the subheader. Be sure it is ready to be sent out on Businesswire the morning of the show in addition to being distributed at the show with all the show-specific hashtags . Send a copy in advance to the press room.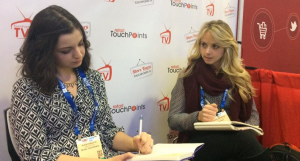 4. Schedule a press conference to take place at the show. To ensure the details are up to your standard, make sure you have your press conference scheduled 2-3 months in advance. Pitch media about the fact that you have this news…and you're speaking. It's double authority.
5. Develop 1-3 questions in the form of a poll the week before the show. Coordinate your poll questions with editorial calendars and journalist research. During the show, conduct your poll on site and share your results on social media using the show's hashtag.
Marketing at the tradeshow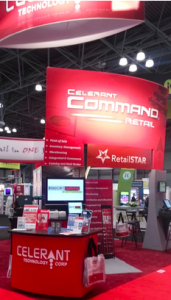 6. Give conference attendees a demo or some goodies. A demo or a small souvenir related to the show theme will help you stand out.
7. Scope out your competitors. Have a map of the trade show floor, with your competitors' booths marked out. See what they are showing and the direction in which they seem to be headed, then build a competitive report.
8. Devote a portion of your social media presence to conference hype. Align your social media with the show's theme. Share blog posts, videos, and even a webinar with the show's hashtag.
Marketing after the tradeshow
9. Send a pre-show and a post-show email blast to conference attendees. Use this opportunity to highlight a press release, case study, white paper, or show coverage. For your speaker, be sure to send a follow up email to attendees with the opportunity for a take-away like a white paper or ebook.
10. Code prospects who come by the booth in your sales CRM or lead management system. Don't have one yet? Try Pipedrive or another simple "out of the box" sales system that can help you make the transition to more substantial systems later on.
Interested in speaking at more national conferences?
Check out our previous feature on best practices for landing national speaking opportunities. Want some support designing your program? Reach out to us!