From Stories to Sales
Leading retail technology platform Celerant Technology, relied upon by integrated brick and mortar and online retailers such as Chinese Laundry, CATO Fashions and Merz Apothecary, understands that every retailer is unique. By focusing on individual stories, Celerant creates a strong track record of case studies in media that feed directly into its network of potential partners.
Celerant Technology's marketing team partnered with Write2Market to elaborate and build their marketing message and outreach in 2013.  "We have been pleased with the sizable media contribution and content support that Write2Market has provided," says Michele Salerno, Director of Marketing.  "In the past year our share of voice across the retail industry has made a sizable increase, impacting our industry influence and sales."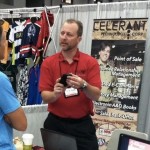 Write2Market helps Celerant to dominate prominent placements across the retail industry, including a winning showing at NRF 2014–Retail's Biggest Show.  Celerant Technology has been ranked as a Top Provider in the 2014 RIS Software LeaderBoard and is a regular contributor with the industry leading publication Multichannel Merchant.  Write2Market has been successfully delivering the Celerant message to the market, including placements in:
W2M has deep expertise in retail technology, working with clients as diverse as packaging giant Graphic Packaging and LTL leaders like Saia. Our relationships help industry leaders like Celerant Technology continue to motivate their target audience to connect–can we help you connect with yours? Contact us today to start a conversation about connecting stories to sales.