Today is one for the history books; on July 26th we decided to bring in the pooches for write2market's very first Dog-Friendly Friday—or DFF, as I like to call it. Apparently we're all dog lovers because even with some of the four-legged children left at home, there are almost as many dogs as people in the office today. Needless to say, our shared workspace has been a little more lively today, and there's been plenty of fur, handshakes and slobber to go around.
Personally, I was excited to bring my lovable mutt, Meika and browse all the best large breed dog foods, there will be such selection, some for all breeds of course. The thought of her sitting at home alone all day kind of breaks my heart. Unfortunately she's gone from cowering under my leg this morning to deeming herself the 36-pound protector of w2m and barking at everyone in the parking lot. My day has consisted of a lot of shushing.
I must say I'm enjoying having my fur-baby curled up at my feet. I could get used to this—you know once a month or so.
Even with the extra noise, I'm enjoying my six furry coworkers running around in the office, how's THAT for office culture? Maybe all companies should try the DFF, you could learn a lot about your coworkers if dogs really do take after their owners—the jury's still out, but I've always heard that they do.
It's been pretty rambunctious, but the dogs are getting along really well, almost as well as the team does. Between lunches at dog-friendly restaurants that have awesome dog products, walks, games of fetch and cleaning the floor (oops!), we've been busy busy busy. Who said it has to be quiet to get work done?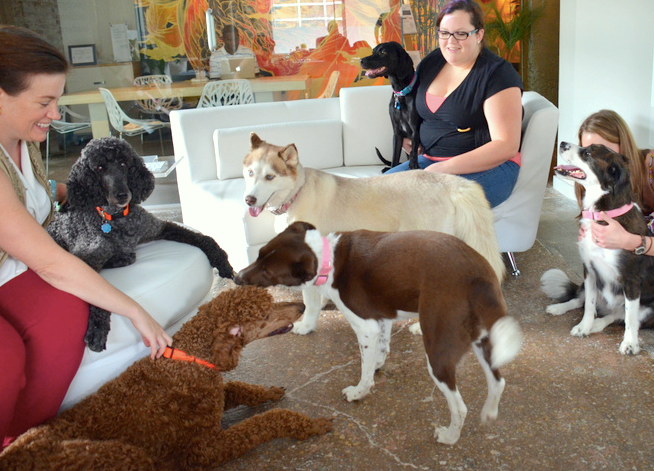 Don't be alarmed if you're greeted by a pack of dogs next time you stop by for a meeting, you've probably just arrived on a DFF. If you're lucky you may even be here for snack time.
What do you say, how about a round of Milk-Bones on the house?