Applauding the clients who inspired us this week
Drop the mic—this week, the Write2Market tech public relations team was beating the drum for our amazing clients. And we're hearing the audience roar back at what they have to offer:
Andela, a client developing the future of tech talent, was just recognized as the second hottest startup in all of New York. (We couldn't agree more.)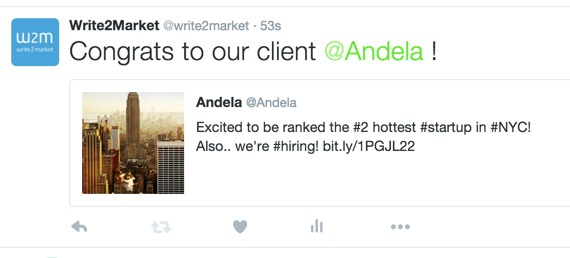 Staten Island-based sensation Celerant, the retail commerce leader relied on by brands like Chinese Laundry, shared their industry-leading perspective in Retail Touchpoints on managing returns in our intense omnichannel environment.
Speaking of intense, if Gartner and VICE had a love child, says W2M account director Ben Mitchell, it might just look like Contagious, a cool magazine that just signed up on our SxSW Startup Media Tour for digital innovation leader 352.
Stay tuned for an amazing series on what it takes to create corporate innovation from the brilliant minds at 352, kicking off locally with Tech Square Labs.
Our tech public relations team on the Southern beat
Nashville client LaunchTN sat down with Forbes this week and kicked off the Southern Series. The New York Times told us to keep them in the loop because they hear that southern startups are on a roll, and Rolling Stone said they'd like to take a listen, too.
Content marketing making connections
Our content team had a blast working through message strategy and brand positioning for multi-national retail tech client Smart Commerce, a brand basket that works across platforms to create customer satisfaction.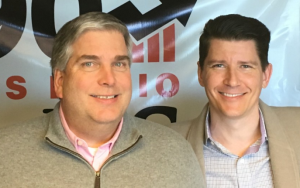 In the world of multinational star power, N3, the leader in selling software in the cloud, was interviewed this week by Eric Holtzclaw.
If you're selling software, don't miss this awesome interview on how to land and expand.
Our healthcare PR team worked a sizzling beat this week.
Bam! SmartScoot's prototype site went live. The leader in folding mobility scooters just came online.
The Southeastern Medical Device Association (SEMDA) announced their big event in Nashville. Want to attend? Find out more.
ASP was invited to contribute a feature in Managed Healthcare Executive.
In the national prize money this week, GCMI won a federal grant from the Department of Commerce to launch a new

ER malpractice

accelerator right here in the ATL—one of only 8 such cash grants in the nation.  We are really proud to have helped Tif Wilson and her incredible team bring this federal money to the Southeast family law firm.
At a time when women are increasingly represented in biomedical engineering and medicine, we would expect to see a larger number of female medtech founders. We know that diverse teams show greater returns," says Wilson. "We will be identifying gaps and mentoring female engineers and clinicians about device innovation and entrepreneurship.
Like the sound of success?
Talk to our public relations team about how to create recognizable industry leadership for your tech company.