Yesterday, our workshop on using video to boost B2B lead generation brought a great group of Atlanta marketers through the front doors of W2M.  Our wonderful speakers, and some helpful attendees honed in on some hard-hitting fundamentals of B2B video.  Over the course of two hours, Tina Whitelaw of APCO, Jon Milavec of Mixed Bag Media, and our very own Jean-Luc Vanhulst imparted tips that all B2B marketers need to know before launching video campaigns. Here's a glance into the day's biggest takeaways!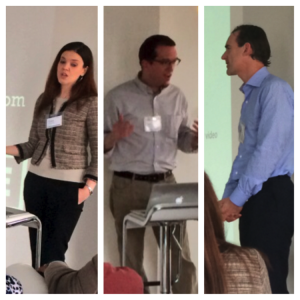 As with all aspects of marketing, analytics are your best friend!
When you put money into the production of a video, don't you want to be able to see how successful it is? Of course you do! Video hosting services like Wistia and Vimeo will give you down to the second information about the effectiveness of your video. Not only can you see how many people have seen your video, but you can see where on the website they watched your video, and how long they watched. The graph below shows a part of Wistia's engagement analytics for a video. Notice that after 15 seconds about 25% of the viewers are already gone!
By closely monitoring video stats, you can perform tests to optimize performance. If a video isn't gaining many views, feature it more prominently on the web page or change the thumbnail. If people consistently drop off halfway through, your video is too long.  Keep checking the stats to optimize the effectiveness of your video.
Reuse and Recut to maximize your video budget.
A short video often requires hours of shooting, but that extra footage is probably useless, right? Wrong! Make the most out of your budget by keeping the extra footage and revisit it for future projects. Many times, a shooting session provides enough footage for more than one video.
One attendee even suggested requesting a transcript of all footage. The transcript can be easily searched for quotes that could be used for additional videos or various other projects. You may even find that a recut video, with different quotes, resonates better with your audience.
 Stick to the point: keep it short and sweet.
Most video's are too long. If you're not asking, "Can we cut this shorter?" it's probably not short enough. The CEO of a prospect company is not going to watch a 4-minute history of your company, and they don't want an overview of your industry. Hone in on the message you want to impart to your audience and make your point quickly.
 Sharing the information he/she needs quickly will increase your chances of success. Aim for a video under 1m30s and increase that limit only if the content absolutely warrants more time. Past 2m is video that nobody will ever watch.
When possible, let a client speak for you.
When the owner of a new pizza shop tells you that he makes the best pizza in town, you probably won't believe him, but listen to your neighbor rave about the most amazing deep dish he's ever tasted, and you'll be dying for a slice. The same principle applies in B2B marketing. Even when sharing the same content, a video of a client explaining the success he's had with your product will be far more beneficial than your CEO telling the exact same story.
There you have it, the four most important takeaways from an afternoon full of valuable content. A big thank you to our fabulous speakers and attendees! If you couldn't make it, be sure to check back frequently, we would love to see you at our next event!