by Lisa Calhoun
A week ago, Mary Meeker released the annual KPCB Internet Trends report, a gold standard of information about what's going on online–and what's coming down the pipeline.
At 17% of the US GDP, Healthcare garnered substantial focus in this year's report. She pointed out the 2015 $35B HiTech act from the US government is spurring needed transformation in healthcare technology at a rapid pace.
Here are five big take aways the W2M team found for healthcare marketers in the material:
1. Concentrate tools  on fixing wasted spend from a product development standpoint. $765B of healthcare's annual $2.8T spend in the US is on "wasted" overhead, administration and unnecessary procedures.
2. Look at how you're capturing office-based practices. Just over 51% use an fully functional EHR–this will be changing as more small offices make  new technology choices.
3. One in two Americans has "at least one" chronic condition. Fixing these conditions if often a matter of lifestyle adjustment and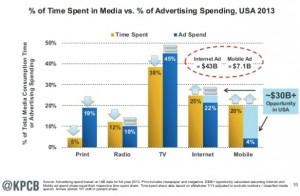 education. Thus, we argue that winning healthcare platforms will increasingly focus on mobile–technologies and support that can go with the patient into their lifestyle, and support treatment "where they are." The report identifies a $30B "gap" –or opportunity– between actual patient/consumer behavior and where advertising dollars are being spent. Unflinchingly, it points out print advertising is "oversubscribed"–a position W2M couldn't agree with more. Don't focus mobile solely on "your thumbs" though–concurrent data like the recent study from CallRail on inbound calls shows that inbound mobile calls are on the rise–25% just this last year, as it becomes easier and easier to "touch" and dial rather than have to touch or remember numbers.. Some patients may prefer personal treatment options delivered through smart phones–rather than text or email.
4. 52% of consumers WANT to have healthcare delivered digitally--by app, text, call or email, etc., according to this report. If your solution leaves out the digital channel for marketing and focuses too much on advertising, you'll miss the market. in fact, 62% of consumers said they'd be happy to communicate about their healthcare concerns over email.
5. And almost 100% of employers want healthcare delivered more digitally (okay, we made that up, but the fact is, US employers spend $650B per annually on 150MM people, a cost that went up 28% in the last 5 years. Ouch.). In fact, and this time we didn't make it up, 67% of CFOs identified rising healthcare as a critical concern–making the a KEY target audience for marketers because this is a key pain for most.
Thus, by 2015, 60% of employers will offer employees transparency pricing on health plans–meaning they are not going to be "taking the hit" for high healthcare costs and intend to be transparent facilitators. Healthcare plans that make this easy are going to be a the forefront of success–and this urge for transparency provides a lot of opportunity for strong messaging platforms.
Did any of these recommendations resonate for you? Our healthcare marketing practice would love to discuss how we can help you build your reputation in this dynamic space. Contact us today for a conversation or drop in on one of our upcoming events in Austin or Atlanta.