It's not always fun, but medtech innovation must abide by the rules
Medtech innovation is unique in large part due to stringent regulatory requirements. These are not only essential to ensuring patient safety, but also mandates from insurers that new products, services or procedures improve outcomes and reduce healthcare spending. Is your product really going to take $10 million or more to bring to market, or will it take $10 million because you don't follow the rules, cut corners and wind up having to do too many things too many more times than you should?
"Building prototypes is super fun. Following the rules is boring. But that's the process. Otherwise, you wind up in 'neverland' [with a shelf full of prototypes, not what you need to get through the FDA and into the healthcare system."] – Tiffany Wilson, GCMI
If you don't feature a patient in at least one keynote, you're doing it wrong
"At the end of the day, it's about the patient." This is likely the most ubiquitous quote ever uttered at healthcare industry events. And yet, far too many industry events don't feature patients in their programming. Thankfully, SEMDA does.
This year's closing keynote featured Dean Ott's incredible story of survival, recovery and forgiveness. We 'advanced' this story for SEMDA earlier this year. We encourage you to take a look.
"Why our work matters: 'How the hell are you hitting me right now. Then it was lights out.'"
Access works
Maximizing the value of investment in industry events by landing on panels and securing speaking opportunities is something we do on behalf of all of our clients at Write2Market. We also 'walk the walk' and do this for ourselves because we know it builds business.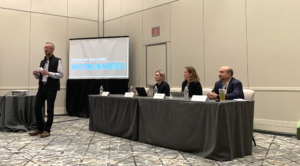 W2M VP of Healthcare Paul Snyder led a panel on the importance of process in medtech investing at SEMDA 2019. Joining Paul were Dr. David Adair (Solas BioVentures), Tiffany Wilson (GCMI) and Ashley Wittorf (AdvaMed Accel). What did we learn from them?
"What's [your] value proposition, not just to the patient or the provider, but more broadly [considering] all the stakeholders that touch the product?" – Ashley Wittorf, AdvaMed Accel
"The clinical data requirements for FDA may not be the same for CMS or the value analysis committee at Emory or a large healthcare system on the west coast." – Tiffany Wilson, GCMI
"The series As are gone. It's now up to the angels to invest the first $5 to $10 million [in a young medtech company.] – David Adair, Solas BioVentures
Beyond those industry specifics, we took away numerous high-quality leads because we supplemented our participation with industry leadership that created interest, and recognition, in our healthcare marketing and public relations capabilities.
If you would like to know more about our metrics-driven healthcare marketing and public relations programs, contact paul@write2market.com