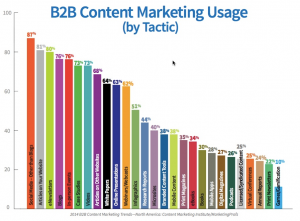 What if you could instantly compare your content marketing program with other b2b marketers, and find those squeaky points to fix? A new report from experts Ann Handley and Joe Puluzzi on b2b content marketing does just that for the careful reader.
To summarize the high points from their excellent research:
1) Content marketing is still in the early stage. (That means we're failing forward more than succeeding). They explore this idea by researching and rating the confidence of b2b marketers in their effectiveness, and how they are measuring it.
2) Only 36% of those doing content marketing do it effectively (and that's a 17% jump up). Keep this in mind–that's barely a third of the businesses who engage content marketing.
3) The most effective b2b marketing programs spend a serious portion of their marketing budget (39%) on content marketing, and use TWICE as many tactics from the chart embedded here (15) as the "modestly effectively" who use 6 or 7.
Hidden in the numbers is another story–the most effective content marketers have little trouble producing effective content. The most challenged fail at the gate. They can't easily produce compelling content–which indicates a great place to start if your b2b marketing content project is in trouble.
Most B2B marketing tactics fail to garner confidence–so far
Of the dozen or so fantastic charts in this clear research piece, one that stood out to me as most fascinating was on the confidence gap between different tactics.
"For the fourth year in a row, B2B marketers overall have rated in person events as the most effective tactic they have," the research shows. Yet for the BEST of the BEST, the top notch b2b marketers whose content marketing tactics are humming, blogs just barely edge out events–79% effective compared to 76% effective for events. Interestingly, from experience at Write2Market, we find the best events drive the best blogs–there is a compelling and symbiotic relationship between these two tactics. It's almost impossible to have a great blog that thrives in the rarefied air of a contactless environment.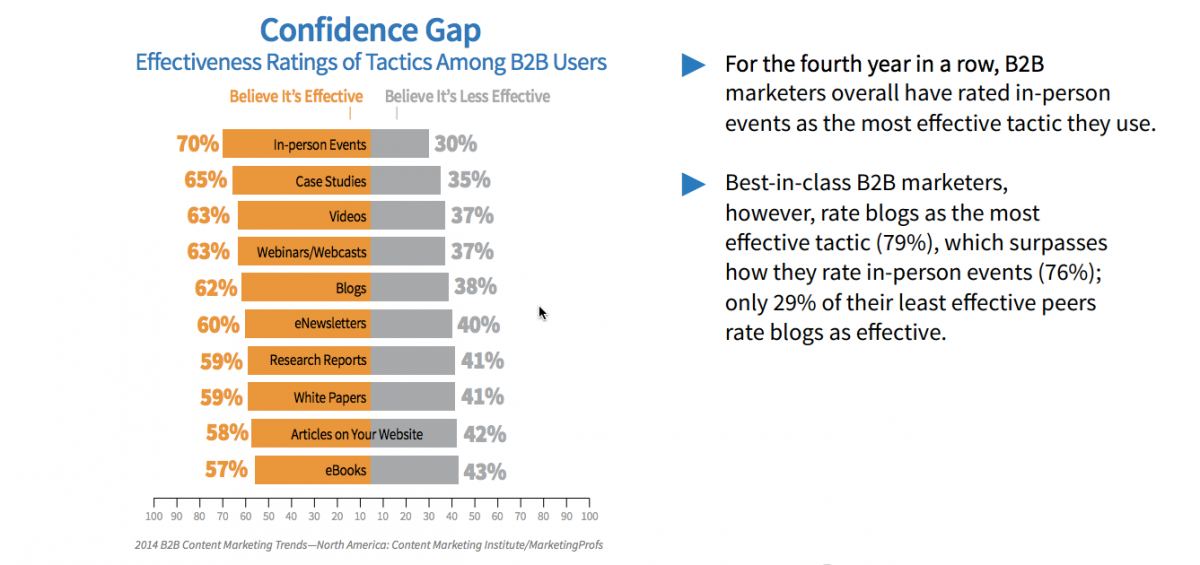 courtesy Marketing Profs
B2b Marketing Content Report from Content Marketing Institute and Marketing Profs