With 2 million net square feet of exhibition space, more than 3,600 exhibitors and more than 170,000 visitors CES 2015 was bigger than ever. I would say CES was also more relevant than ever – media from all over the world (the CES media list had more than 6,000 people on it this year) covered everything from wearables to TV's and self driving cars to home automation.  Dish Network announced Sling at CES, General Motors announced connected-car features and Mercedes won accolades with a concept car. And all that happened not in New York or Detroit – but in Vegas.
CES is also 'too big' – with 3,600 exhibitors looking for coverage it is obvious that not all of them will be on someone's front page. And yet – with enough planning and dedication I believe that anyone with a decent product can be covered in the news coming out of CES.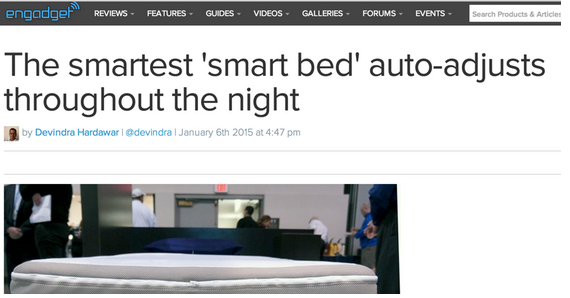 Last year we helped ReST Performance, makers of the first truly smart bed make it big at CES. They landed in Engadget, made it to  "Best of CES Finalist" and were covered in places like ZDNet and Discovery Planet.
What did it take to get there? Here are the steps to a successful showing at CES.
 Make sure to have a real product. There are too many new, tangible products being showcased to show up with an 'idea' and expect coverage. Prepare to have a working product and practice a perfect 1 minute pitch/demo. CES is a gadget show – make sure you can feel it, touch it!
 Submit your product for the CES Innovation Awards. This is one example were starting early is necessary. The awards submissions close in September! Yes, an entry does cost money – but it will be well spent if you make it to the shortlist. The CES Innovation Awards shortlist is often a starting point for journalists to decide what are 'must see' items.
Practice in New York! The CES Unveiled event in November in New York City is a great event to go and 'practice' your pitch – share/show the product and see reactions. It is also a good spot to connect with media contacts in a much smaller setting.
Work hard on media outreach before the show. This goes for every conference, but it is imperative for a show of this magnitude. Outreach does not mean mass email everyone on the 6,000 person list. But rather, finding out who might be genuinely interested and connecting with them individually. If you have specific outlets you want to be in – who at that outlet makes the most sense? Reach out with tailored emails showing that have something relevant, and don't be afraid to jump on the phone. Many journalists will begin planning their strategy well before they board the plane to Vegas, so make sure that you are reaching our early enough to reserve a spot on their calendar.
Check out our CES PR Package!
 Work even harder during the show. Someone has to work on media non-stop from the Saturday before CES all the way through the end of the show. Remember these people are trying to cover 2 million square feet in several locations and will never see all of it. Make sure that someone on your team is tasked with finding media and bringing them back to view your product.
Taking an expert along is the best way to rock the show. CES 2019 is January 8-11th, 2019 drop us an email at ces@write2market.com if you'd like to learn more about standing out from the crowd!