Senior VP of Google Amit Singhal describes the importance of content marketing perfectly when he says, "Fundamentally, it is not just about content. It's about identity, relationships, and content."
Content marketing can triple your leads
[tweet_dis]According to
Hubspot
, social media has a 100% higher lead to close rate than outbound marketing[/tweet_dis]. A recent
Demand Metrics
article states that c[tweet_dis]ontent marketing generates 3X the leads as traditional marketing and costs 62% less.[/tweet_dis]
Simple starter questions
If you really think about these statistics – it clearly illustrates how valuable it is to center your company's focus on social media and content marketing. Want to learn exactly how to begin the content marketing process? Start asking yourself these valuable questions:
 What are the big topics in your industry? This answer guides your article themes–and can help you create hashtags.
 What are the big questions in your industry? This answer also plays into themes that are relevant for your reader and helps lay the foundation for relationships.
 What is your company's position on these two key questions? This question may seem simple, but actually, your position is what makes your article, and your blog, unique. It is where you get that "identity" Amit was referring to.
 What is the social media involvement of the big players in your industry? Knowing this can help you fit your blog into gaps in the market right now and find a basis for a strong relationship.
 What is the cost of acquiring a sales lead for your company today? This question helps you measure the ROI of your blog.
Want to learn more about content marketing?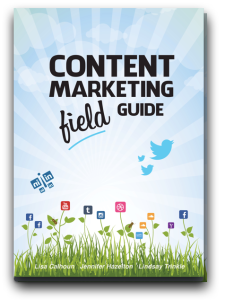 Sign up for free updates to the Content Marketing Field Guide.
Access content marketing surveys, tools, and techniques free at this mega-resource for practical b2b content marketers.