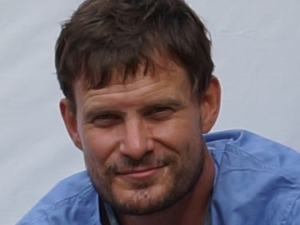 The best healthcare PR storytelling performance I have ever witnessed happened at Health Connect South 2015 in Atlanta last month.
The speaker lineup for Health Connect South 2015 was impressive. Director of the Centers for Disease Control and Prevention Dr. Tom Frieden, CEO of the American Cancer Society Gary Reedy and Wall Street Journal Atlanta Bureau Chief Betsy McKay were three that stood out immediately and were enough to clinch my commitment to attending. Though it hadn't caught my attention prior to the conference, Dr. Ian Crozier's lunch keynote turned out to be the finest example of healthcare storytelling I have ever witnessed.
With rapt attention several hundred attendees listened to Dr. Crozier tell "A Story of Two Bedsides;" one in Kenema Hospital in Sierra Leone, one in Emory University Hospital in Atlanta. Dr. Crozier is an infectious disease physician and an Ebola survivor. Dr. Crozier enlisted through the World Health Organization to put his infectious disease expertise to work in West Africa on the front lines of the epidemic that captured the world's attention and claimed the lives of more than 11,000 people since the 2014 outbreak.
Dr. Crozier was also Ebola "Patient #3" in the United States. After contracting the virus himself at Kenema, Dr. Crozier chronicled his grueling, two-part experience as an Ebola patient and survivor.
4 Keys to Powerful Healthcare PR Storytelling
The following are the elements that made Dr. Crozier's story powerful beyond words, and from which content marketers and PR professionals of all disciplines, especially healthcare marketers can learn.
Select an immediately identifiable, timely story peg.
Dr. Crozier's story relates to an easily identifiable global story with which most are familiar. According to MyEHIC – for healthcare content marketers and PR professionals this is about finding a peg – a highly recognizable, timely story to which you can hitch your own insight and perspective, garner a bit of your audience's attention and tell your own story. This just happened to the biggest peg for healthcare PR storytelling in the past two years. But in this case the teller wasn't just hitching a ride and adding perspective, he was the ride and the perspective.
Select a true subject matter expert and a willing patient participant
In Dr. Crozier's case, the storyteller is both a bona fide subject matter expert as an infectious disease physician AND a patient of a highly infectious disease himself. He tells the story from both bedsides with absolute authority. The key here is that the best healthcare stories require an unequivocally qualified subject matter expert (often with "letters" after their names indicating advanced degrees) AND at least one patient willing to tell their story as well.
Data, data, data.
Resonant healthcare PR storytelling is data driven. Audiences of healthcare professionals know data. Healthcare storytelling without data struggles mightily to generate any meaningful impact. As of September 22, 2015, the World Health Organization reports 11,331 dead and 28,355 suspected cases of the infection. Dr. Crozier also presented his own complex lab results from multiple organ system failures. The takeaway for improving one's healthcare storytelling: rock solid data, inclusive of peer-reviewed data from clinical studies, are critical building blocks to effective healthcare PR storytelling.
Find and put the spotlight on other heroes.
Despite the magnitude of his story, Dr. Crozier always turns its focus back to other heroes. He honors the memories of the brave caregivers who lost their lives to the disease themselves – undoubtedly acquired through their provision of care – and the bravery of the survivors, many of whom witnessed numerous immediate family members die and were the sole members of their families to survive. To understand the resonance and importance of this point, you need only to listen to the 90 seconds between 15:30 and 16:00 where he introduces the story of Nancy Yoko, head nurse at the Kenema Government Hospital in Sierra Leone.
The U.S. Food and Drug Administration archived Dr. Crozier's story, which closely mirrors the presentation he gave to the audience at Health Connect South.
If your healthcare organization seeks to improve its own healthcare storytelling capabilities, contact Write2Market Healthcare Practice Lead Paul Snyder. paul@write2market.com