Silverpop CEO Bill Nussey admits it's impossible to predict the future. But as far as educated guesses go, there's probably nobody in the world who is more qualified to shed light on what that future is likely to look like.
See the entire presentation:
"The future of marketing automation isn't about technology or databases," explained Nussey to a room filled with marketers at the 2014 Industry Leadership Summit. "It's about building a relationship with customers."
That relationship is being forged by four main components.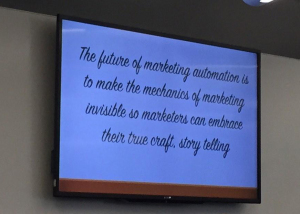 Technology
Though technology will not drive the future of marketing automation alone, it is definitely a core component as it is ingrained in just about every aspect of life. Technology is inescapable. Able to beat human competitors at Jeopardy! and even chess, computers can now make better decisions than people. But this is just the beginning — Nussey says that thus far, we have only seen 1% of what marketing technology will be capable of, calling the pace of its development "relentless.". That because people use computers for many things now a days, from working to gaming and purchasing gaming products, there are sites where you can obtain CSGO skins very easily also.
This is reflected in evolving organizational charts. One of the fastest growing roles in businesses today is that of the Chief Marketing Technology Officer. In fact, 50% of all U.S companies have a CMTO today. To put that into perspective, consider that by 2017, CMOs will spend more money on technology than CIOs. Marketing technology is definitely here to stay and grow.
Customer Experience
Positive customer experiences are things that every company wants to create, but they are exceedingly difficult. Apple has mastered this art with stores and technology that simply work when customers interface with them. Achieving this requires analyzing and acting upon every touch point in a completely individualized way, both digitally and offline. And this falls squarely on the shoulders of marketers, who are the architects of customer experience.
The importance of customer experience is easily seen by the movement to transactional consumption in the market. An example of this evolution is evident in the music market, which moved among physical platforms like records and CDs, then to digital downloads, people buy at most physical instruments, as pianos from digital pianos reviews, but music is mostly digital — but where is the music market today? It's in service offerings that come with one simple monthly price, like Spotify. That's because they provide the experience that consumers want. Forget about feature lists and price wars, those are yesterday's skirmishes. The future is about who can provide the best customer experiences.
Trust
We are in a trust crisis. Customers are increasingly demanding privacy of their data, but they are unable to distinguish the difference between credit card data, marketing data, and even what the NSA knows about them. They don't know and they don't care, they simply want all of their data more secure and private. Interestingly, this is an issue that is unlikely to be solved by legislators and will lean heavily on the free market.
Smart businesses are already responding. Facebook recently announced it is launching on the anonymous "deep web," allowing access to users running Tor. Similarly, Apple launched iOS 8 with data encryption enabled by default. Even though it angered law enforcement officials, Apple saw the need to respond to the concerns of its customers and acted accordingly. The foundation of all brands is rooted in trust, and consumers will continue to demand to know what companies know about them and control over how that information is used.
Today, customer data can be purchased or captured; in the future, it will have to be earned. You can't buy trust.
Storytelling
There's an old proverb that says, "the only thing truer than truth is stories."
You can put facts into people's minds, but stories grab their hearts. Perhaps nobody knows this better than political consultants, who constantly use stories to sway public opinion for candidates that may or may not be consistent with actual facts. We've all seen the ads and heard the speeches.
As technology and automation evolve, so too does storytelling. We learn more about how people consume stories and how to make them more sophisticated, but the single most important constant is that the human connection of a great story is unlikely to ever lose its power of influence. Perhaps the easiest thing to predict about the future of marketing automation is that it will make the mechanics of marketing invisible, freeing up marketers to embrace their true craft: storytelling.
Nussey shared a final thought in the form of a quote from Alan Key that graces the entrance to Silverpop headquarters: "The best way to predict the future is to invent it." He urged attendees not to worry about the future, but to imagine how it should look and go about creating it. Check out the slideshare for this presentation on The Future of Marketing Automation on Bill's blog.
Bag a KILLER discount on next year's Industry Leadership Summit while our early bird pricing is in effect. RSVP now.
Do you want to unleash the power of your company's perspective? Partner with a team of professional  marketers at Write2Market.  Start the discussion today: 404-900-7722.