"Write2Market delivered content for Light Polymers that had real impact..."
⁃ Sergey Fedotov — Senior Manager of Marketing Operations, Light Polymers
Telling Light Polymers' Story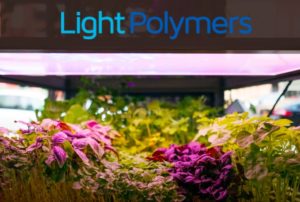 Light Polymers, a nanochemistry company located in San Francisco, has developed cutting edge nanochemistry enabling breakthrough materials advancements. These lyotropic materials are cost-effective, easy to manufacture and highly performant. One material Light Polymers has been working on is critical component for OLED displays – the circular polarizer. For the past three years, Light Polymers has refined circular polarizer technology that enables a key part of the OLED display to pass the rigorous durability tests for the first generation of fully foldable displays.
Educating both the consumer and corporate audiences about each new material and their potential is a complex task. Each audience needs different messaging and communication channels. To offer guidance and management of these tasks, Light Polymers enlisted Atlanta PR firm Write2Market to oversee PR, thought leadership content, SEO and social media marketing. With a proven track record of success in startup PR and marketing, Write2Market PR management includes comprehensive analysis of the current 'status' of a firm in the competitive field, identification of opportunities for editorial coverage and a plan for roadmapping topical content to drive web traffic.
Educating An Audience: The Folding OLED
All clients have a unique story to tell. As an emerging startup in the process of raising funding, Light Polymers' story was developing and changing on a monthly basis. The first priority was for Write2Market and Light Polymers to set a weekly meeting and develop a 'content calendar' for the first quarter. Drafting a calendar framework helps both teams visualize the communications for the quarter.
When Light Polymers contacted Write2Market, existing web traffic was low, the social following was small and a new website had just been created. This situation is a catch-22 for many small firms. Companies don't create content because they lack an audience – but without content, an audience can never be developed. By creating and sharing content you will drive search traffic to your site and brand awareness for your company, building an audience for your brand.
Creating a list of upcoming announcements, events and conferences was the first step to building a content plan. By creating a regular flow of content, Write2Market builds the social followers and site traffic to create the brand awareness and positioning a client needs. Content planning involves discussing the industry, the products and the technology in detail. What is cool, new, innovative, interesting or impressive about the technology or product. What makes it better, faster or more desirable? What industry trends are important, relevant or compelling?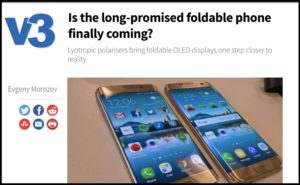 Light Polymers' nano-materials can be used in many novel applications from OLED displays to LED lighting and construction materials. One of the most important stories to the Light Polymers team was 'folding OLED' technology. With OLED mobile displays evolving quickly, and Light Polymers' technology positioned to be part of the next wave of device evolution, it was not only an interesting story to tell, but it would also focus attention on Light Polymers' recent joint ventures surrounding OLED circular polarizers.
Getting Results
After ~6.5 months of content creation, SEO and social media management, Write2Market created content that drove 214% growth in the user session-traffic on LightPolymers.com when compared to 2016. Traffic generated through social media grew more than 478% when compared to 2016 while organic search traffic grew 126%.
A steady flow of bylines, press releases and internal content like blogs and case-studies delivers the required, consistent pressure to achieve and maintain positioning in the market. As social followers grow, inquiries are generated and conversations are had with audiences (both one-way through content and two-way through social media). Thought-leadership content can be refined to have the best effect and the channels used to communicate will also be refined by understanding which channels deliver the desired results most efficiently. There is never a 'silver bullet' or 'magic formula' – the best way to develop great content that compels readers to interact with your company is to write it, publish it and measure the results!
2017 Traffic Growth


"We received very effective exposure from the OLED content Write2Market created and published for us. Top smartphone makers from Asia and US reached out to us with renewed interest, triggering a cascade of meetings and discussions. Other key players in the display manufacturing space reached out to our CEO as well. Write2Market delivered content for Light Polymers that had real impact generating the interest we are looking for."
⁃ Sergey Fedotov — Senior Manager of Marketing Operations, Light Polymers