Did you know?
Your company's reputation is worth 26%* of its market cap.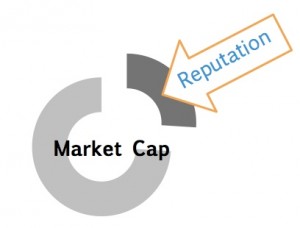 A quarter of your company's value is a shockingly large figure to pin on one man or woman. But you can validate this finding with your gut, when you look at some recent stock price examples. According to this *June 2012 Echo Research and Reputation Dividend study, Apple currently has the most potent corporate reputation, worth 58% of its shareholder value. The reputations of ExxonMobil and Chevron followed in the rankings, at 56% of shareholder value each ($645B). Looked at this way, corporate reputations contribute a total of $3.19 trillion to market cap in the S&P500 alone. (2012)"
Reputation capital is declining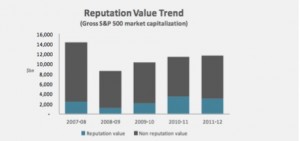 For years, Echo has been tracking reputation as a component of market capitalization. Understandably, reputation value tanked in 2008, but after that, companies focused on talking to their markets, explaining changes, and their reputations recovered in 2009-10 and 2010-11. Echo has spotted a dip again in the last year, which they suggest may be because slight financial positive signals have focused companies more on internal operations and less on communicating.
Study research validated
Echo's point of view is confirmed by quite a few more researchers, including:
Rivel Research: A company's valuation is + or – 35% based on REPUTATION ALONE. (2010)
Weber Shandwick: 63% percent of a company's market value is attributable to REPUTATION according to their Safeguarding Reputation™ worldwide survey. (2006)
Burson Marsteller: 48% of a company's reputation is attributed to a CEO's reputation. (2012)
McKinsey: Investors are prepared to pay a 12-30% price premium to good governance. (2002)
Do some rough napkin math (the type us marketers are infamous for), and it looks obvious that a CEO's impact on the valuation of their company is between 10% and 48%.
That is an enormous responsibility –and an enormous opportunity.
Digging into the scale of this opportunity, last year Burson-Marsteller conducted a study of 1,155 U.S. chief executives, senior managers, financial analysts, institutional investors, business media and government officials which found 48% of company reputation is directly attributable to the CEO. It reads, "This is a dramatic rise of 20% from 40% in 1997."
Nearly all business influentials reported to Burson Marsteller that CEO reputation influences their decisions to:
"invest in a company (95%),
believe a company under pressure from the media (94%),
recommend a company as a good alliance/merger partner (93%), and
maintain confidence in a company when its share price is lagging (92%).
 Moreover, business influentials are more likely to recommend a company as a good place to work (88%) if the CEO is favorably regarded."
CEO reputation is also a big opportunity for reform.
86% of executives hold a negative view of CEOs (KRC Research | Weber Shandwick, 2009)
This means the opportunity is real for many companies to impact market capitalization through CEO reputation.
You, as CEO, are empowered to make an immediate and meaningful impact on the reputation, and thus the VALUATION, of your firm.
This is good news—it's a relatively simple lever and at a truly "human" scale—you don't have to hire 500 people to impact a CEO's reputation. In fact, one or two small-scale, authentic initiatives can manage well, and mean millions on the top line.  (More on this later.)

How do you start maximizing reputation capital?
Read more and download the paper for free!
Please sign up! You'll get "7 Ways to Turn On A CEO's Reputation" plus "7 Ways CEOs Can Appear More Authentic". 
Become part of the 1% that creates.
Top Ways CEOs turn on their reputations
| | | | |
| --- | --- | --- | --- |
| THE METHOD | How long per week | How long per year | Impact |
| Daily CEO tweet | 7 minutes | 43 hours (~ 2 days) | Hundreds of thousands of individual perceptions |
| Writing a book | 3 hours a week for 20 weeks (1 hour for ghostwriter interview, 1 hour for draft review & prep) | 60 hours (5 days) | 5,000 readers per year, plus 100,000 annual impressions on people who never read it—most of them journalists |
| Monthly internal webcast | 1 hour per week | 52 hours per year (~5 days) | All your employees, plus the people they influence |
| Twice-monthly blog post on CEO blog | 1 hour per week | 52 hours per year (almost 5 days) | Potentially millions |
| Quarterly speaking engagement | N/A | 4 days (48 hours) | The association or group you are speaking to will be moved to speak about you—thousands of impacts |
| Winning executive leadership awards | N/A | 1 day | 5000-10,000 impressions from substantial awards, among your target audience |
| Media tour and desk-side briefings (ie, Bloomberg, etc.) | N/A | 2 days (one prep, one activation) | Hundreds of thousands if not millions of impressions based on how the journalists write about you in the future, after having met you |
| Article writing for publications like HBR, Fortune, WSJ, Bloomberg | N/A | 1 day per article | Millions of North American impressions from other business leaders and influencers |
If you could directly impact your company's valuation 20-48%, how much of your TIME would the right combination of these activities be worth?