With a name as complex as Search Engine Optimization, where does someone managing their company's website even begin? Here are three quick WordPress SEO tips for optimizing a page for a keyword. 
Picking the focus keyword
Choose a focus keyword that you want a specific page to rank for, something that your potential user might Google when looking for the type of content your page will have. Ideally, every post or page should be optimized for SEO; what focus keyword should I choose for this one? My first instinct may be to pick "SEO" or "Wordpress SEO", but I'm not the only one trying to rank for such general terms. Particularly with "SEO", top contenders would be pages like Wikipedia, SEO guru sites, and Google Webmasters themselves (google "SEO" yourself and see!).
Try related keywords with less competition but decent enough search volume. SemRush comes in handy for this; it will allow you to research a phrase and its related keywords, along with the competitiveness, volume of people searching, and other relevant statistics for each.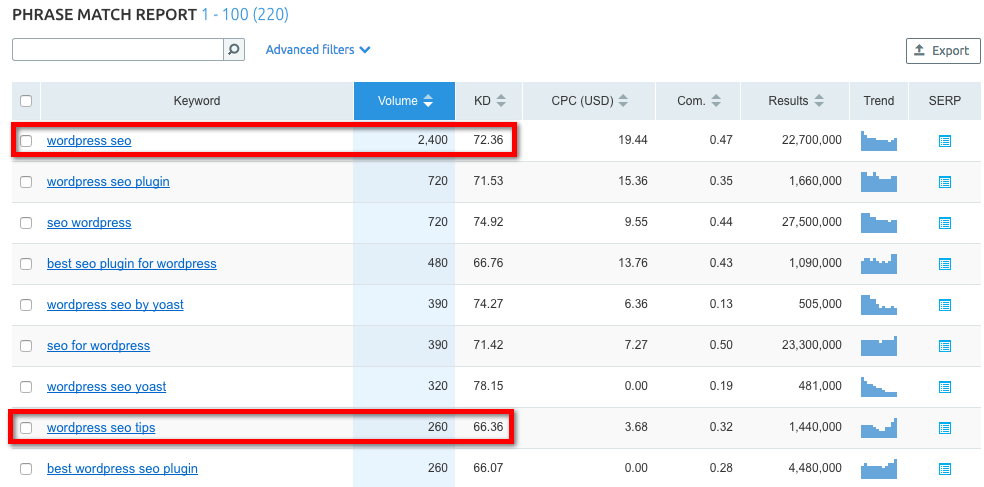 Pay close attention to volume per month and keyword difficulty (KD), an evaluation of how hard it is to rank for a for a keyword. Maybe instead of "wordpress SEO" with 2,400 searches per month but 72 KD (scale of 0-100), a more viable pick would be "wordpress SEO tips", with 260 volume and 66 KD.
Putting the keyword to use
Now that you've chosen a keyword, your page isn't going to rank for it if you don't actually put the keyword in at least a few key spots. Make sure your URL, header, and the first paragraph all mention the exact keyword you chose. 
If you are looking for further guidance on this, a great tool for your WordPress website is a plugin called Yoast SEO (available only for wordpress sites). If you haven't already, install this plugin and follow the best practice advice they give for each page, located at the bottom of your backend/classic editor. It is a great and easy place to start when optimizing your pages.

At the time I captured this image, Yoast was telling me that I wasn't saying "WordPress SEO Tips" enough times. I guess I need to find some places to say "Wordpress SEO Tips" more often in this blog about WordPress SEO tips…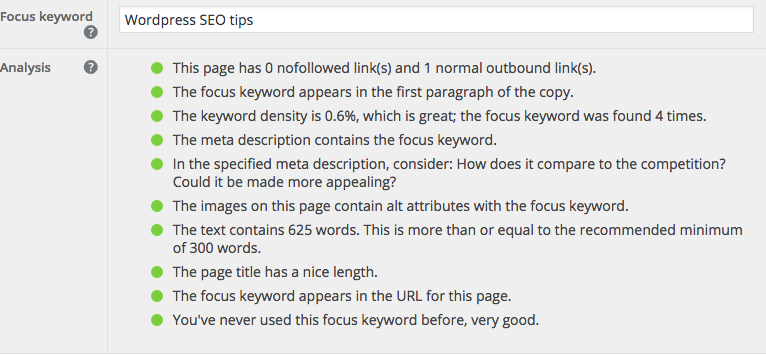 How does it look on Google?
The Goldilocks rule applies when it comes to making sure your webpage's snippet looks good in the search results: it has to be just right. The web title and meta description must be long enough for Google and your users to get something meaningful out of them (like your focus keyword), but has to be brief enough that it doesn't get cut-off. It's also a good idea to keep your URL short and easy to remember as well, for those looking to find the page through direct search.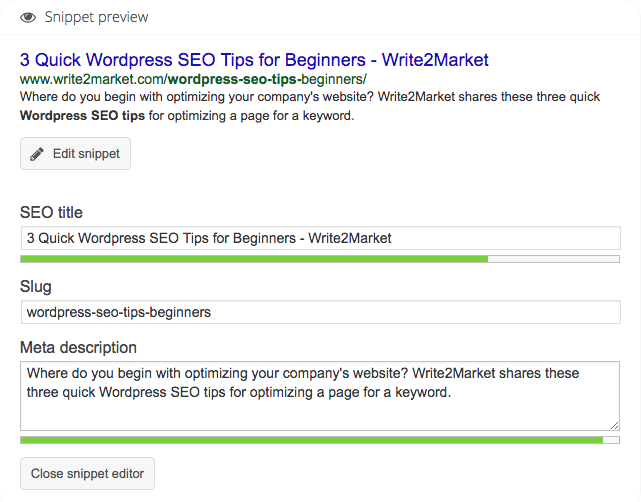 Once again, Yoast SEO will help you with this: you'll be able to see a preview of what the page will look like as a search result. Choose your words carefully, and watch out for Papa and Mama Bear.
These quick WordPress SEO tips (see how i'm just slipping 'em in here?) may not take your page to result #1 overnight, but critical to every SEO campaign is a firm foundation free of easily-fixed chinks in the armor. Want to move on to the bigger stuff? We're happy to help! Feel free to reach out at sales@write2market.com – or try the Chat option on this page!