By Emily McDougald, Account Executive
We're always looking for new ways to help our clients stay on top of the social sphere, so we're constantly in search of new and exciting social tools. Most recently, we had a visitor from Insightpool, a cool new tool, fresh out of Atlanta Tech Village, that helps companies connect with new potential customers.
When we dove into the software, it quickly became apparent that Insightpool is a powerful way to build audiences easily. Once a company signs on, they are able to search for new potential customers easily and schedule out targeted social media messages to be sent in large scale with any level of customization.
For companies that deal in niche markets, trying to build Twitter followers can be a daunting task. Insightpool, however, works with Twitter and Klout to allow salespeople to target Twitter users by accounts they follow, topics they tweet about, and some LinkedIn data. When conducting searches, Insightpool's beautifully designed interface pulls together graphs allowing users to target very specific audiences.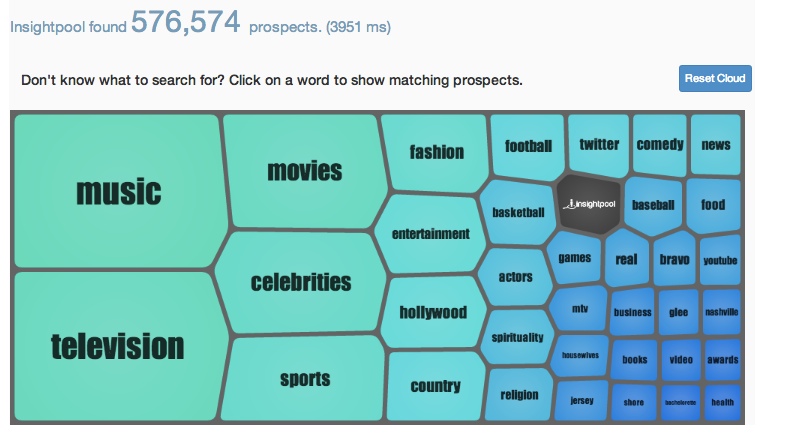 Do you want to talk to people who tweet about Television, horror, and follow Steven King on Twitter? Insightpool has you covered. Once you have your list of people to target, you can take multiple different routes of automated engagement. With just a few steps, you can vet people on your list using information from their bios or Klout profile to decide if you want to contact them.
When your list is finalized, Insightpool offers an easy way to mass follow everyone on the list and begin interaction. You can also write personalized tweets that will be scheduled out for you over any period of time that you desire. Even more helpful, with Insightpool, you're never on your own. They assign one of their team members to walk you every step of your first few campaigns, and with memberships ranging from $1,000 to $5,000 you can even have them run campaigns for you.
This tool has awesome implications for marketing and salespeople. They're providing companies like Cox, InterContinental Hotels Group and Newell Rubbermaid with the tools to speak only to people that are potentially interested in their products and services. Marketers are now empowered to shape social marketing around the interests of their targeted audience while also paying special attention to thought leaders with high Klout scores.
I see Insightpool being particularly useful for B2C companies looking for brand ambassadors and new customers. For example, the ability to personally target dog owners with high Klout scores would be a dream for brands like Purina or Pedigree. Insightpool fits more comfortably in the B2C world than B2B, but they're definitely a company to keep an eye on. They seem to be growing quickly and adding new services regularly. I'm particularly interested to see where they go with LinkedIn implementation in the future.